Oroweat Organic Quinoa & Sunflower Seed Loaf Review
Please note that this review was sponsored by Oroweat Organic. However, the opinions in this review are strictly my own and I had control over its contents. I am not affiliated with Costco or any of its suppliers (aside from this sponsorship arrangement). I am just a fan of the company. I write these reviews to help my fellow shoppers. If you like my blog and want to show your appreciation, please follow me on Instagram or Facebook, or tell your friends to check out my blog!
Read the review to the bottom to find out how to win one of three $50 Costco Cash Cards!
Bread (specifically peanut butter toast) is one of my favorite things to have for breakfast. That's why I jumped at the opportunity to review the Oroweat Organic Quinoa & Sunflower Seed Loaf! This bread is made in British Columbia and uses sustainable baking processes, plus Oroweat has partnered with Tree Canada to support environmental and community initiatives in Western Canada – those are all nice bonuses in my opinion.
The Oroweat Organic Quinoa & Sunflower Seed Loaf is currently available in the bakery department at Costco, and you get two giant loves for $6.79 Canadian. That's really reasonable for an organic loaf! After bringing the loaves home from Costco, I noticed that they made my kitchen smell amazing just sitting on the counter. The bread itself is delicious – it's light, really soft and very fresh tasting. It's perfect for someone who wants to eat healthy and organic and prefers a softer, less heavy bread than many of the other organic options out there. My favorite part is the quinoa and sunflower seeds that cover the crust of the bread. I tried the Oroweat Organic Quinoa & Sunflower Seed Loaf both toasted and just out of the bag, and both ways tasted great. I think it would make great sandwiches.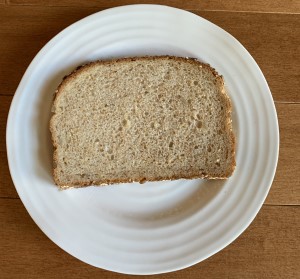 Oroweat has a pretty delicious recipe for a "Next Level Nut-Free PB & J", which is school-safe so kids can bring it for lunch!
Next Level Nut-Free PB & J Recipe (recipe credit – Stephanie Dang)
Ingredients:
Two slices of Quinoa & Sunflower Seeds Oroweat Organic Bread
3 tbsp sunflower seed butter
10 freshly picked blackberries (if you don't have blackberries you can use your favorite jam)
¼ sliced banana
1 tbsp hemp hearts
Directions:
Put blackberries in a small bowl and mash with a fork.
Spread sunflower seed butter on one slice of Oroweat bread. Spread mashed blackberries on the other slice.
Assemble banana slices on the sunflower butter side.
Sprinkle hemp hearts onto the blackberry jam side.
Assemble the sandwich and enjoy!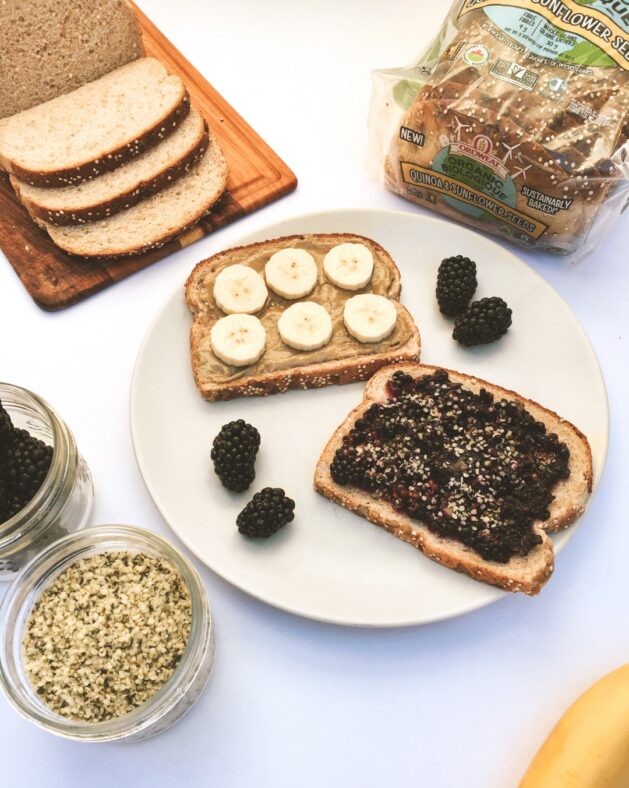 Two slices of bread contains 210 calories, four grams of fat, 34 grams of carbohydrates, four grams of fibre, three grams of sugar, nine grams of protein and 300 milligrams of sodium. I like how much protein this bread has! It's also plant-based, non-GMO certified and doesn't have any artificial ingredients, preservatives, colors or bleached flour.
If you're a bread fan like I am and appreciate a softer bread that's organic and full of healthy ingredients, you should check out the Oroweat Organic Quinoa & Sunflower Seed Loaf – available now at Costco!
CONTEST INFORMATION!
Oroweat has provided (3) $50 Costco Cash Cards for us to give away.  We will be holding a contest on Facebook and all you have to do is to comment on this Oroweat Organic Quinoa & Sunflower Seed Loaf Review post with how many loaves of bread you have baked since the start of the Covid-19 lockdowns!  You can go directly to the post here: https://www.facebook.com/costcowestfanblog/posts/1660602660766760
No purchase necessary. Contest ends October 4, 2020 at 11:59 pm (PT). Open to Residents of Canada, 18+.
Conditions apply. 1 entry/person. Correct answer to math skill-testing question required. Contest is not sponsored by Instagram® / Facebook®.  Winner will be announced via Facebook on Sunday, October 4, 2020 at 9:00 AM (PT). Winners will be contacted no later than Monday, October 5, 2020 at 9:00 AM (PT) to claim prizes.
***This is a fan run, independent page with no affiliation or endorsement by Costco Wholesale***