If you like my reviews for Costco food products the greatest thing you can do is follow me on Instagram or Facebook and also tell your friends about my blog Costcuisine where I review tons of Costco food products each week! You can also check out my Youtube Channel where I do video reviews!1
Today I'm reviewing the Inspired Go Golden Buddha Bowl! I've reviewed a few Inspired Go salads from Costco such as the super tasty Unbeetable Salad. My husband and I actually get them delivered every week for quick dinners or lunches. The menu that they have for delivery is different than the Costco salads, the salads at Costco are exclusive to Costco.
I paid $7.49 Canadian for the salad which seems expensive but it's actually a few dollars cheaper than ordering them directly from the company. Also, it's nice to support Canadian small companies and the salad has a lot of nutritious ingredients.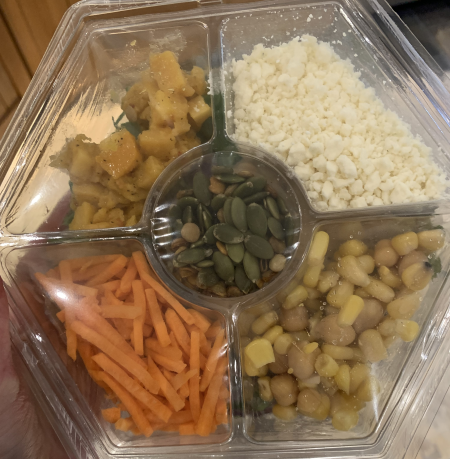 These salads are unbelievably convenient, one salad is a meal-sized portion for one or you can split one between two people for a generous side salad. The best before date is about five days from the date the salad was purchased. The salad needs to be kept refrigerated. Each section of ingredients has it's own little space in the plastic tray so if you have an allergy or for example a dairy allergy you can easily just not add that specific ingredient.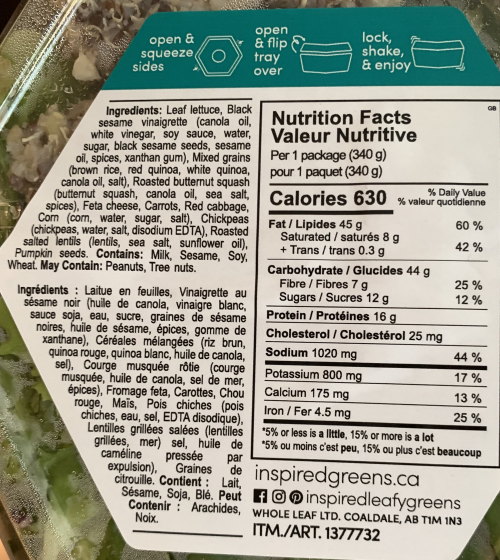 These salads are high in calories but do have some nutritious ingredients. I've reached out to the company and asked them to consider using avocado oil or extra virgin olive oil in their dressing over canola oil. One whole salad has 630 calories, 45 grams of fat, 44 grams of carbohydrates, seven grams of fibre, 12 grams of sugar, 16 grams of protein and 1020 mg of sodium. That's pretty high in sugar, calories, fat and sodium!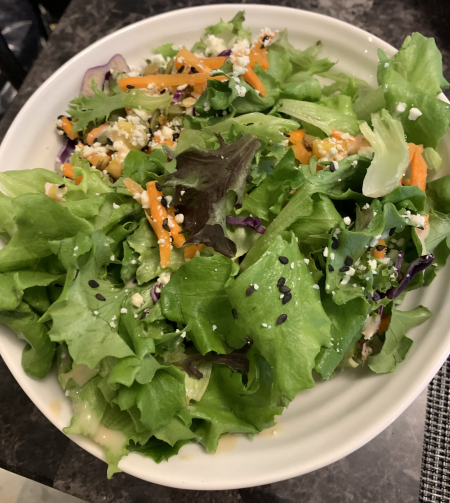 I loved the golden buddha bowl and so did my husband. There's fresh greens, butternut squash, a rice and quinoa mix, feta, carrots, red cabbage, corn, chickpeas, roasted lentils and pumpkin seeds. All of these ingredients are tied together with a delicious black sesame vinaigrette. The salad is fresh tasting and really flavorful! The dressing isn't too sweet and has a nice sesame flavor.
I would definitely buy this again and enjoy it! If you're a salad fan, treat yourself to one of these budda bowls.
Cost: 6/10
Convenience: 10/10
Nutrition: 4/10
Taste: 9/10