Hi Everyone!
EDIT: See Part 2 here
I hope you are all doing well! You may have heard that the US / Canadian border has reopened back to vehicle traffic. I have quite a few packages that have been stuck over the border for over a year now that I have not been able to retrieve. I thought this would be a good time to head on over the border to pick them up, as well as make a stop at Costco and Fred Meyer to see what is new over there!
I looked for items that were not available in the stores in Canada, but I skipped the majority of the Clothing, Over the Counter Medicine and Personal Care sections. I have to split the page up into 3 different parts as there are so many items to post. This first part are all the photos of the perishable foods. The next section is the non-perishable foods and after that will be the non-food items.
In case you are wondering, my shopping list was big after no going down there for a long time. I picked up: Grillo's Pickles, lots of Tillamook Cheese, Mexican Coca Cola, Kerry Gold Butter, Kevin's Turkey Gravy (which is in the freezer for Christmas Dinner), Kirkland Signature Cranberry Walnut Bread, Ahi Tuna Poke, Honolulu Cookie Company Cookies, Heavy Whipped Cream, Costco Dog Toys and the Costco Puzzle. I also picked up some of my wife's favourite items from Trader Joe's and some Juanita's Tortilla chips and Tillamook Yogurt from Fred Meyer. Unfortunately, since this was only a day trip, I did not have an allowance for alcohol, but I did bring back a 4 pack from Rogue Brewing (yes, I declared it and was waved through even comping back with $850 USD of food and kids clothes)
I will say that everyone including the border guards were extremely nice during this process. I even had one person come up to me and tell me how nice it was to see Canadian license plates in the parking lot again.
Costco Membership
Your Costco Membership is valid at any Costco warehouse in the world. For payment you can use your Canadian Capital One Costco Branded Mastercard, Interac or any VISA card.
Pre-Departure Testing Process (FlyClear by LifeLabs)
I'm going to assume that anyone heading over the border for a short trip is fully vaccinated, otherwise you will be required to quarantine in Canada for 14 days and submit another test on day 8 of your quarantine.
For those of you who are fully vaccinated and want to do the short trip over the border, the process is not exactly easy. You are not able to just stop by any LifeLabs location to take a test. You can't even make a normal reservation at a LifeLabs location to get a test done. The process is a little complicated so I thought I would explain the process here:
Step 1: Get a COVID-19 Test Requisition from LifeLabs
To order the test requisition, you are required to pre-pay for the test online. The cost of the test is $150 plus tax ($157.50 in BC) You will first need to determine your testing window. You will choose your Covid Testing Window (72 Hours) your relative time (relative to arrival) and enter in your estimated departure and return times. This will give a time range where you can take your test.
The test will be valid for 72 hours from the time your sample is taken.
Results are guaranteed to be delivered within 48 hours of sample collection for FlyClear™ and LifeLabs Locations within Ontario and British Columbia. The vast majority (~90%+) of PCR/NAAT FlyClear™ results are delivered within 24 hours
Since I did not want to cross into the US border before I received a negative COVID-19 test for fear of getting stuck south of the border, I know I would want to take my test exactly 50 hours before my departure time. With my results guaranteed to return within 48 hours, I would be guaranteed to have my results back before I left. This would give me 22 hours in the US before I had to return to Canada.
This tight timeline is definitely something to consider if you want to head down for a hockey / football / basketball game.
You are required to enter in all your personal information as well as your passport information to order your requisition. It is also compulsory to enter your flight information into the form. When I called the Customer Service number, I was instructed to enter "Other" for any fields that did not apply and to enter AA000 as the flight number.
You are also required to enter in a Passcode with a minimum of 10 characters, a special character and a number. Don't lost this passcode – like I did! You will need this passcode to download your lab requisition from your E-mail and you will need this requisition for Step 2. (You can request a passcode by E-mail, but it just adds another step.) You will also need this password to download your test results!
Step 2: Book an Appointment for a COVID-19 Test at Shoppers Drug Mart
Once you have received your COVID-19 test requisition from LifeLabs, you will need to book an appointment for a test. There are only 11 testing sites in the Lower Mainland where you can take your test and they are all at Shoppers Drug Mart.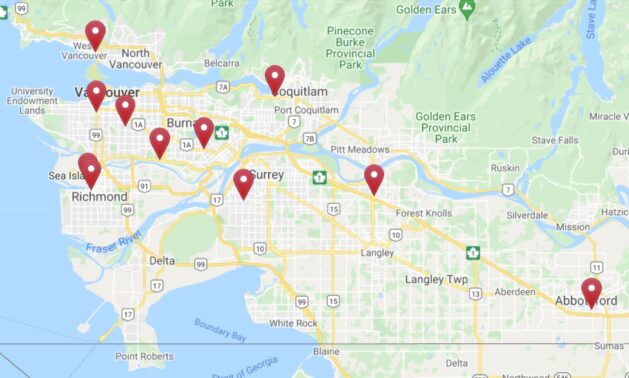 First you are asked some screening questions (which seem unnecessary if you are doing this well in advance). You are required to download your requisition (using your passcode) to retrieve your order number. Then you will enter in some personal information as well as your flight information, in which I entered the time I expected to arrive at the US border at the start of my trip.
The final statement on the request form is:
Please Note: The Pharmacy will not accept requests for appointments less than 30 hours from flight departure time, since results cannot be made available in time. You must budget sufficient time for testing and to receive results before your departure.
Once you have completed this form, you are informed that you must wait for someone at the pharmacy to contact you to make an appointment:
Thank you for submitting your request for the International Outbound Travel COVID-19 test at SHOPPERS DRUG MART.

Pharmacies are currently receiving a high volume of COVID-19 testing appointment requests. A member of the Pharmacy Team will contact you as soon as possible to schedule an appointment. If your flight is more than 7 days away, it may take a few days for the Pharmacy Team to call you.

Your unique confirmation code is XXXXXXXX. You will be contacted by a pharmacist or a service provider of the pharmacy to complete your screening, and if eligible, book an appointment for your International Outbound Travel COVID-19 test.Step 2: Book an Appointment for a COVID-19 Test at Shoppers Drug Mart
Step 3: Get your COVID-19 Test at Shoppers Drug Mart
I booked my test for Monday Morning at 9:00AM and when I got there, there was already a line about 5 deep. It took about 15 minutes to get to the front of the line. You have to bring your passport, your LifeLabs Requisition and your Shoppers Confirmation Code you received when you booked your test.
Once you have checked in, it was another 5 minute wait and I was seen for my test. I was in and out of the testing office in one minute. The test was nothing like the fist Covid-19 test I received previously where they tickle your brain with a swab through your nose. In this test, they use the swab on the outside of your gums then in each nostril, but not very far up. That was about it.
Step 4: Wait for Test Results
I had the test done on Monday morning at 9:00AM and I was sent an E-mail notifying me that my test results were available for download at 1:30AM on Tuesday. Unfortunately, you will need the password that you created during your LifeLabs requisition to retrieve your results.
Step 5: Print out your Vaccine Certificate
Depending on your province of residence, you can download it here:
https://www.canada.ca/en/public-health/services/diseases/coronavirus-disease-covid-19/vaccines/life-after-vaccination/vaccine-proof.html
Step 6: Sign up with ArriveCAN
You need to sign up with ArriveCAN before re-entering Canada. Download the App and enter in your port of entry information. It will give you a QR code you can use to return to Canada. You can Find more information here:
https://www.canada.ca/en/public-health/services/diseases/coronavirus-disease-covid-19/arrivecan.html
Step 7: Time to Cross the Border!
Once I was ready to leave, I made sure I had all my documents ready and printed:
Canadian Covid-19 Vaccine Certificate
LifeLabs Lab Test Certificate
LifeLabs Test Results
ArriveCAN Confirmation E-mail
Canadian Passport
Nexus Card
To enter the US, all you need is your Canadian Covid-19 Vaccine Certificate and your Passport or Nexus Card.
To re-enter Canada, you will to present all items 1-5 (or 6) to prevent any problems.
That is pretty much it. I like to be prepared, but I was still happy I didn't have any problems at the border. I also read on a CBC article that you can pre-book an NAAT test (which you can use to return to Canada) at least one day ahead and you can get your results in a couple hours! Unfortunately, the only Walgreens that offers the test was in Seattle, but it might be a good option for you!
That is it for now. Enjoy these photos and I'll be working on the rest of the photos over the weekend!
Happy Shopping!