I also posted my Top Ten Costco Appetizers for Christmas.
If you like my reviews for Costco food products the greatest thing you can do is follow me on Instagram or Facebook and also tell your friends about my blog Costcuisine where I review tons of Costco food products each week! You can also check out my Youtube Channel where I do video reviews!
Today I'm reviewing the Costco Nando's Peri-Peri Sauce. I've seen this at my Costco for quite some time however I've never tried it before! I picked it up to make some wings.
I didn't know what Peri-Peri sauce was so I went to google. It's a hot chili pepper sauce that is made out of a mix of African Bird's Eye Chili along with other ingredients.
I paid $10.99 Canadian for the one liter bottle of sauce which to me, seems a little expensive!

The sauce comes in a glass bottle with a screw top and the expiry date is 13 months from the date I purchased it. Although the expiry date is so long, the bottle recommends consuming the sauce within three months of opening it. Also be sure to refrigerate your sauce after you open it as well. This is made in the Netherlands, which I think is kind of cool!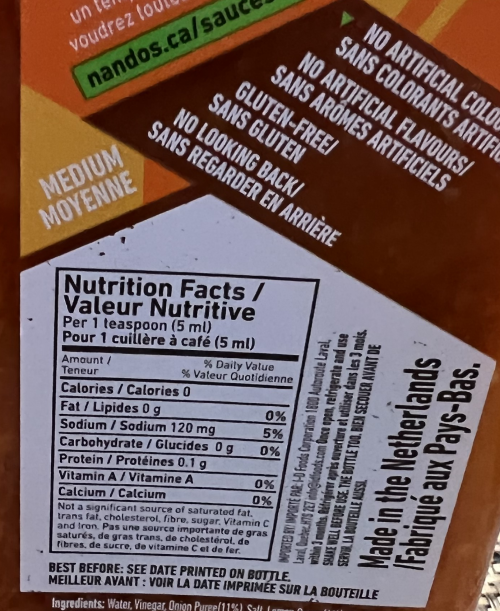 There are no artificial flavours or colours and the sauce is gluten-free! It's calorie-free and fat-free. The only thing you need to watch is the sodium content as one teaspoon has 120 mg of sodium and a single teaspoon isn't a ton.
For a medium sauce I found this really spicy! It is really quite flavourful and you don't just taste heat. You can strongly taste lemon, onion, garlic and paprika. If you're a hot sauce fan I think you'd really enjoy this because of the depth of flavour as well as the big punch of heat. The overall flavour is hot, slightly sour from the lemon and salty. If you're someone who doesn't like hot sauces, I'd stay away from it. I recommend using the sauce on chicken and have even seen online some people putting it on rice, noodles and fish.
Cost: 7/10
Convenience: 10/10
Nutrition: 8/10 (have to watch that sodium!)
Taste: 7/10 (it's dependent on how much you like spice, my husband likes spice and he thinks it's pretty tasty)