Costco West Sales Items for May 23-28 for BC, Alberta, Manitoba, Saskatchewan
Hi everyone!
First of all, I would like to thank Matt & Steve – The Extreme Bean who have kindly offered to support his blog and sponsor this post!!! Check out my honest review of their Caesar Gift pack here and I would encourage you to also support this small, Canadian company and pick up their product for $9.99 at Costco locations in Western Canada!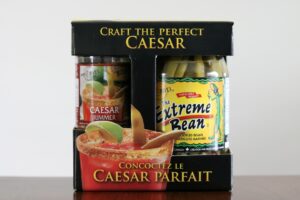 Matt & Steve have also provided me with some product to give away: (5) Matt & Steve's Caesar Kits including 1 x Caesar 2 Pack, 3 x Signature Extreme Bean Glasses  1 x Garlic & Dill Beans, 1 x Hot & Spicy Asparagoos  ($35.00 value).  All you have to do to enter is to comment on this Facebook Post and answer the following question:  Where is your favorite place to have a Caesar?  My new favorite place to have a Caesar is on my back deck watching my little one play on her new water table!!!  Good Luck everyone!
I hope everyone had a chance to enjoy the first taste of summer over the long weekend.  We went out to a wonderful wedding this weekend while the little one stayed on her first overnight trip with the grandparents!  This weekend she really had a chance to enjoy the hot weather – and has  enjoyed playing with her new water table (from Costco USA, of course).  Costco was closed on Monday, so for the new followers out there, I will usually post the next day the warehouse is open.  Since the nice weather is upon us, I decided to take another pictures of the fans and air conditioners in case you might be tempted.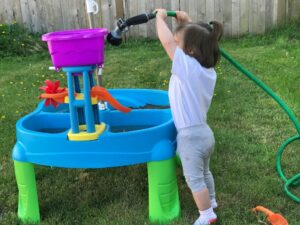 It was another great week for shopping at Costco!  Sweet Bell Peppers are on sale this week.. They are a great deal if you can find a use for 6 peppers – I like roasting them on the BBQ until the skin turns black – then putting them in a paper bag to steam – and taking the skins off.  DELICIOUS!  I'd be interested to hearing any reviews on the Maxwell Street Chili & Cheddar Beef Burger.
V8 Juice, Bounty Paper Towels, Bounce Fabric Softener, Ecos Laundry Detergent, Scotties Tissues, Charmin Bathroom Tissue, Resinite Food Wrap, Mott's Clamato Juice, Cheerios, Honey Nut Cheerios, Hellman's Mayonaise, Cretor's Chicago Mix, Pillsbury Pizza Pops, Yoplait Tubes, Liberte Organic Greek Yogurt, Bulls-eye BBQ Sauce, Band-Aid Variety Pack, Wild Roots Coastal Berry Mix, and Sun Rype Fruit Source are some of the items that I like to buy.
Happy Shopping!.
*** One thing to keep in mind when reading this blog is that sales items in the meat and produce section are store dependent – the manager sets the sales for these items. For that reason, the chicken sales that you see this week (and last) may not be available at your store. Also, any items on the blog that end in '.97' means the item is on a clearance. These '.97' items are also store dependent. If you are interested in one of these products you can check with customer service to see if any of the items is available at a nearby store! If you purchased the product previously and it has gone on sale, if you bring in the original receipt and you have purchased the product withing 30 days (or longer, depending on the employee), Costco will refund you the difference!
Use these posts to make the best use of your Costco Card! I have done all the hard work for you and have a weekly listings of all the Costco Sales Items and flyers. Costco does not publish these Costco sales items; the only way to find out what is on sale is to walk the whole store! Come back every Monday to find out what is on sale for the week. The sales may vary slightly by store, but are generally pretty consistent between Western Canada. If there is something you really want, please make sure to double check the expiry date as some of the Costco sales items have been known to end mid-week.
If this blog has helped you save money or has provided you with some entertainment, consider sharing cocowest.ca with your friends and family! Alternatively, you can join the Costco West Facebook group to get updated whenever there is a new post! https://www.facebook.com/costcowestcoupons/. Follow me on Twitter at: @CostcoWest!
Check out what you can but at the Costco Business Centre in Lynwood, WA Part 1, Part 2
Take a look at some unique Costco Items in Portland!