Costco West Sale Items for June 25 – July 1, 2018 for BC, Alberta, Manitoba, Saskatchewan
Hi Everyone!
This week was a great week at Costco with lots of unadvertised sale items that everyone can use!  The Vitamix is a great deal at $100 off this week – I don't believe I have seen it on sale like this ever before.
I did a post this week where I took pictures of all the clothing, shoes and undergarments at my local Costco.  CLICK HERE to see the post.
Huggies Pull Ups and Huggies Natural Care Wipes are on sale.  Cheerios and Arrowroot Cookes are also on sale for babies/toddlers.
Nestle Water Bottles are on sale – great for a picnic or emergency kit.  All Coke and Pepsi Pops are on sale, Minute Maid Orange Juice, Cranberry Juice, Good Host  Powdered Lemon-Aid,  Sparkling Ice, Vitamin Water, Mott's Clamato, Gatorade, and Red Bull round out the drink list.  The Harvest Meats Smoked Farmers Sausage, Munchies, Heritage Valley Angues Burgers, Sunrise Farms Chicken Breast Burgers, Jumbo Mr Freeze and Pretzel Chips are great for a summer BBQ.
Things are pretty busy at the house this week.  This is my last week of parental leave before I head back to work.  I don't know what next week will be like, but I know my future Mondays will be long days for me.  Wish me luck!
The little one is doing great!  The lack of sleep is all worth it when they give you a little smile… or was that a poop?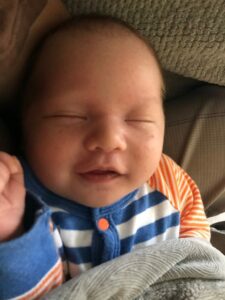 ** If you are interested in a blog that does some great reviews of Costco Foods.  Please check out my friend Natalie's Costco Product Review Blog – Costcuisine.com.  She is from Edmonton and will be doing reviews on Costco Food Products three times a week.  You can see her reviews on some of my favorite products, the Cotton Candy Grapes (Yum) and the Kirkland Quinoa Salad!  If you have any suggestions of products you would like her to write about just send her an E-mail!
COSTCO CANADA DAY CLOSURE NOTICE:  Costco will be open in BC, AB, SK, MB on Sunday July 1, 2018.  It will be closed on Monday July 2, 2018.  As a result, my next post will be Tuesday July 2nd in the evening.  The weird closure has something to do with how each province declares their Statutory Holidays.  Here is the link to the Official Costco Holiday Closures Page:  https://www.costco.ca/hours-and-holiday-closures.html

Take a look at some pictures from Costco in Hawaii
Take a look at some pictures from Costco in the UK!
Take a look at some pictures from Costco in the Taiwan
Take a look at some pictures from Costco in the Australia!
Check out what you can but at the Costco Business Centre in Lynwood, WA Part 1, Part 2
Take a look at some unique Costco Items in Portland!
Take a look at some pictures from Costco Japan – Deli, Seafood & Sushi Items!