Costco Digital Membership – Now Available in Costco App!
Hi Everyone!
Costco has finally come around  with a Costco Digital Membership and added some new features to the Costco App!  Costco has added a tab at the bottom of their app that now allows you to use the app on your phone as your membership card. 
You can now also easily view your 2% reward balance for Executive Members and renew your membership online!  This function just popped up on my phone today and I wanted to make sure that everyone was aware of this new feature!
I'm hoping that this digital membership card works without a data connection – it seems like this is why you have to manually verify you card before it is loaded.  I tried taking a screenshot of the digital membership but a warning comes up specifically saying this will not work.
Nevertheless, the digital membership card is great news for people like me.  Even though I am a seasoned Costco Shopper, I have been known to forget my Costco Card, forcing me to take extra time to head to the membership desk to procure a Costco Membership Day Pass. To get access to this function, you need a valid Costco Membership.  You will also need to sign up and verify your account with Costco.ca or Costco.com and log into your account on the latest Costco app.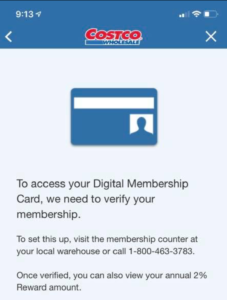 The one thing that may deter people from using this is seeing the awful membership picture they took of you.  Mine is really awful – it doesn't make a difference on my black and white low red Costco Membership card, or the tiny Capital One MasterCard, but seeing a large full colour picture makes me want to gag a little.  Hopefully your pictures are better!
I guess I can always ask to take another?  Is that vain?
You can use your Digital Membership Card at any of the registers in the following areas:
Warehouse entry
Check-out (assisted and self check-out lanes)
Returns
Pharmacy
Hearing Aid
Photo
Optical
Tire Center
Note: Currently the Digital Membership Card is not accepted at Costco Gas Stations.
For more information visit the Costco Customer Service Website to learn more about the NEW Costco Digital Membership Card! https://customerservice.costco.com/app/answers/detail/a_id/8949/~/digital-membership-card-faqs
Subscribe to Costco Executive Coupons through Costco App
If you are an executive member and you haven't been receiving your executive member coupons, you can confirm if you have chosen to opt into receiving physical mail through the app.  If you click on the person icon on the top right hand corner of the app and select "Preferences" on the tab located under "My Account" you will need to make sure you have a check mark under:
Yes, I want to have my name and mailing address appear on Costco's mailing list and receive information about promotions, products and services, such as The Costco Connection magazine and coupon programs from Costco, regarding Costco, its affiliates, including Costco Wholesale Corporation (Costco and its affiliates are referred to collectively as the "Costco Affiliates"), and selected partners.
If the above statement is checked off, you are subscribed for the Executive Coupons that come out 3-4 times a year!  If you aren't what are you waiting for? That is all I have for now! 
I hope everyone has a great week and I'll see you all on Thursday!
Happy Shopping!