Thursday Update – Speakers, Headphones & Toys: Costco Sale Items for Aug 15-18, 2019 for BC, AB, MB, SK
Hi Everyone!
Just a reminder to everyone that Kirkland Signature Baby Wipes are on sale this week.  If the pattern holds, I don't expect this product to go on sale again until late January – so stock up!
I decided to supplement this Thursday's post with the speakers, headphones, and toys that have arrived in the warehouse!  Is it too early to be thinking about Christmas Gifts?  Langley Costco also got some cute costumes for 3M – 3T – Sloth, Unicorn and Chicken.  There are also quite a few items on clearance including Pool Accessories, Sunscreen and Off Mosquito Repellent. I also found Red Seedless Candy Heart Grapes. 
If you missed the Cotton Candy Grapes this year (they had some blemishes on them this year) you should try to pick up some of these from the Warehouse.  These grapes were in fantastic shape and tasted much like the Cotton Candy Grapes they had earlier this year!  I don't know what is going on with all these specialty grape varieties, but it is definitely  a fun nice change!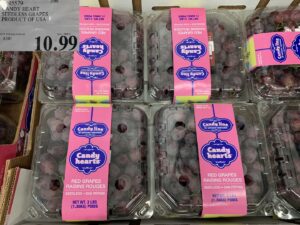 Bone-In Chicken Thighs, Chicken Drumsticks, Alpha-Getti, Heinz Baked Beans, Guy Fieri Sweet Mesquite BBQ Sauce, Premier Nutrition Protein Shake, Budweiser Prohibition, Addidas Track Jackets (men's), Calvin Klein Crew Neck T-Shirts (boys) and the Northridge Upholstered Queen Bed are all items that I didn't catch on my Monday Post!
Oh yes! If you haven't entered in the contest for the L'Oréal Paris Voluminous Lash Paradise Mascara, please follow this link to enter!
Happy Shopping! 
See you Monday!
Warehouse Location: Langley