Sponsored Post Content

Procter & Gamble – Spend $100 Get $25 Promotion – Oct 28 to Nov 24
Hi Everyone!
This week we have teamed up with Procter & Gamble to let you know about this year's Spend $100 Get $25 Promotion!  This paid post has been sponsored by Procter & Gamble, but all opinions are my own.  I actually wrote about this promotion when it happened last year (well, at least my brother did).
The promotion is actually pretty easy. All you have to do is to SPEND $100 on P&G products, upload a copy of your receipt (on your phone or computer) to www.getpgoffer.ca or fill out the mail in form and send it in and GET a $25 Costco Shop eCash Card redeemable online or in-warehouse.  Eligible P&G products are marked in-store and online with the little SPEND $100  GET $25 blue circle logo (as seen above).
The nice thing is that your $25 gift comes as a Costco Shop eCash Card sent to your email address.  I can't tell you how many times I have signed up for a mail-in rebate and lost the card, but this one will be right there in your inbox while you're shopping at www.costco.ca.    Costco members can take advantage of this offer is a maximum of twice per Costco member.
Last year, unfortunately, our family was not able to take part in this promotion because we were just starting to pack for our vacation to SouthEast Asia (where has the time gone?).  We will definitely be taking advantage of the promotion this year.  The way that my 4-year old goes through Charmin toilet paper, I could probably spend $100 on that alone.  I love hearing "If I HAVE TO use the bathroom all by myself, I WILL use up all the toilet paper, humph" – especially after I just replaced the roll. <sigh>
You will probably find that you use a few P&G products without even knowing it. If you are wondering how I will be hitting my $100 here are a few things I will be getting:
Crest 3D White toothpaste: You need toothpaste, so why not have it brighten up your teeth as well?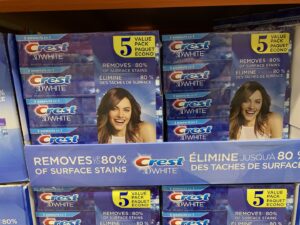 Gillette Fusion ProGlide: When I'm in a rush (which is a lot of the time with two small kids) I use an electric razor, but I keep like to have real razor blades around for when I want to give my face a good pampering.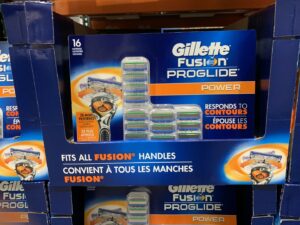 Cascade Platinum: I use this because it was the brand recommended by my dishwasher (KitchenAid).  We cook most of our food from scratch at home and it always seems to get out all the messes we put into it.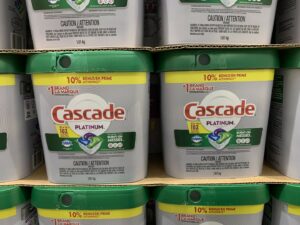 Bounty Paper Towels: We keep one roll in the kitchen and now we keep a roll in the dining room to clean up after my son who uses the floor to discard all unwanted food (while defiantly looking us directly in the eyes)  Works great to clean up baby oatmeal, spaghetti, mashed potatoes, milk and tomato soup.
Pantene: This is my 3 year old daughter's favorite conditioner.  Brushing out tangles on her long hair is one of the least favorite parts of my day.  Personally, I've found that Pantene conditioner works best to keep her hair manageable and soft for brushing.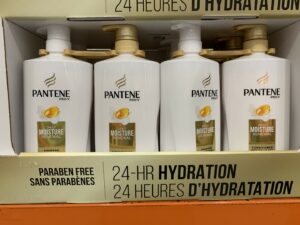 The great news about this promotion is that some P&G items will go on sale during the promotional period, thereby increasing your savings!  I went through my posts from last year and noted all the applicable P&G items that went on sale during the promotional period.  There are quite a few!  Like I state in all of my blog posts, this is NOT a guarantee that these items will go on sale this year, it is just my best guess.
Last year's sales during the P&G Spend  Get Promotion
2018-10-29 – 2018-11-04
Cascade Platinum Dishwasher Detergent
Ultra Downy Fabric Softener
Head & Shoulders Shampoo Classic Clean
2018-10-29 – 2018-11-11
Tide Powder Original Laundry Detergent HE
Tide Advanced Power Liquid Detergent
Swiffer Dusters
Swiffer Dry Refill Sheets
Swiffer Wet Refills
2018-11-05 – 2018-11-11
Gillette Fusion Cartridges
2018-11-12 – 2018-11-25
Charmin Ultra Soft Bathroom Tissue
Febreeze Air Effects
Gillette Sensor 2 Plus Disposable Razors
2018-11-19 – 2018-11-25
Mr. Clean All Purpose Cleaner
Cascade Power Clean Dishwasher Detergent
Mr. Clean Magic Erasers
Gain Liquid Detergent
Gillette Fusion Cartridges
Oral B Glide
Oral B Bacteria Guard Toothbrushes
Crest Pro-Health Advanced Mouthwash
Crest 3D White Toothpaste
THE FINE PRINT
Here is the information on participating P&G brands and exclusions:
Participating Brands: All Tide, Bounce, all Downy, Gain, Ivory Snow, all Cascade, Dawn, all Gillette, all Venus, all Crest, Oral-B*, Glide, all Always, all Tampax, all Olay, Pantene, Head & Shoulders, Old Spice, Meta, Align, all Swiffer, all Febreze, all Mr.
Clean, Bounty, Charmin, all Vicks, Clearblue*.
Excludes: Oral-B Pro6000, Pro2000, Pro500, Braun, Clearblue Fertility Monitor, SK-ll Facial
Additional Program Details & Exclusions: Promotion valid for purchases made between October 28 and November 24, 2019 at Costco (in warehouse and online). Purchases may be made over multiple transactions during the offer period. Spend $100 (after discounts and before taxes) on Procter & Gamble Participating Products and get a $25 Costco Shop eCash Card. If purchases are eligible, $25 Costco Shop eCash Card(s) will be emailed to qualified members within four (4) weeks from the day the submission is received. Costco Shop eCash Cards are not redeemable for cash, except where required by law. Void where prohibited. Limit two (2) $25 Costco Shop eCash Cards per eligible member. All submissions must be received or postmarked by December 24, 2019. Promotion valid for Canadian residents & purchases made in Canada only. Full Terms and Conditions available at www.getpgoffer.ca. Sponsor: Procter & Gamble, Inc., 4711 Yonge St, Toronto ON, M2N 6K8 Canada. Promotion acceptability is based on applicable laws and regulations of each province. © 2019 P&G
Spend $100 Get $25 Promotion Planner (As usual, prices may vary)