The Costco East & West Fan Blogs have partnered with L'Oréal Paris to help them promote the Dream Lengths Shampoo & Conditioner which are available at Costco Warehouses Canada-wide.
This is a paid promotion, and all opinions are my own. With that being said, I would never promote a product that I didn't sample and believe in.
***Read to the end of this review to find out how you can win 1 of 3 $50 Costco Cash cards!***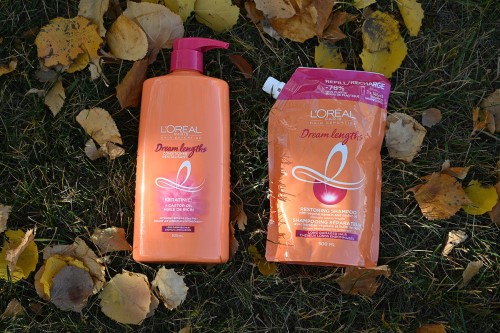 Hi! It's Natalie from the Costcuisine Costco food and product review blog! I'm really excited to be writing a review today for the Loreal Paris Dream Lengths Shampoo and Conditioner that is available at Costco! L'Oréal kindly sent me a sample of both shampoo and conditioner.
I have really long, processed, dry hair with a lot of split ends so the L'Oréal Dream Lengths shampoo and conditioner is definitely something I can benefit from. My hair has stayed the same length for years despite not cutting it very often just because it breaks easily.
The shampoo and conditioner lather extremely well and both have a heavenly, perfume-like scent. After using the shampoo and conditioner, my hair looked smooth, shiny and was tangle-free. It's been really windy here and my hair has been in tangles at the end of the day but I noticed after using this twice my hair wasn't tangled when I got home.
I haven't used the L'Oréal Dream Lengths shampoo and conditioner long enough to see if it helps my hair grow but I will for sure continue using it. In the short amount of time I've used it, it has reduced my frizziness and my husband even complimented the smell of my hair a day after using it!
This product makes my long, dry, processed hair happy by leaving it soft and strong feeling after each use. These great products are available at Costco warehouses Canada wide for $17.99 for the 828 ml. Shampoo, Conditioner + refill pouch trio.
I recommend this L'Oréal Dream Lengths shampoo and conditioner from Costco for those who have long, dry hair with breakage. The shampoo and conditioner have vegetable keratin, vitamins and castor oil to nourish and strengthen hair.
COSTCO $150 CASH CARD CONTEST INFORMATION
L'Oréal has provided (3) $50 Costco cash cards for us to give away! We will be holding a contest on Facebook and Instagram all you have to do is to comment on that L'Oréal Dream Lengths Shampoo & Conditioner review post and comment with your Halloween Costume. You can go directly to the post here: FACEBOOK POST!!! & INSTAGRAM!!! Enter on both platforms to double your chance of winning!
https://www.facebook.com/costcowestfanblog/posts/1985375554956134
https://www.instagram.com/p/CVuBBN_ro6m/
No purchase necessary. Contest ends Saturday, November 6, 2021 at 11:59 pm (ET). Open to Residents of Canada, 18+.
Conditions apply. 1 entry/person. Correct answer to math skill-testing question required. Contest is not sponsored by Instagram® / Facebook®. Winner will be announced via Facebook on Monday, November 8, 2021 at 9:00 PM (ET). Winners will be contacted no later than Monday, November 8, 2021 at 9:00 PM (ET) to claim prizes.
Thank you so much for reading this review! Entries for the contest must be entered on Facebook or Instagram (links are provided in the post). Unfortunately, comments on this blog post will not be considered a valid entry! Good Luck Everyone!