Weekend Update! – Costco Sale Items for Apr 2-4, 2021 for BC, AB, MB, SK
Location: Langley, BC Costco Warehouse
Hi Everyone!
I hope you are all able to get some time to relax at home this weekend!  There is no relaxing for us here in our house!  Not only did we have a new baby at spring break, but we also had a clutch of chickens hatch at our house thanks to our friends over at Nanny McCluckins.  We everything we needed to grow the eggs and we kept the chicks for a week before returning them to the farm.  We received 5 chicken eggs (different breeds) and 21 days later we had 5 chicks running around!  It was a fun project, but I was quite happy to bring the chicks back at the end.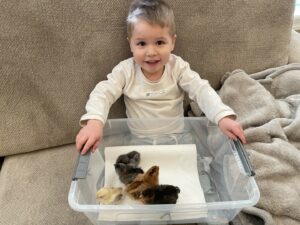 There were quite a few items this week on sale.  For those of you who asked, I have not seen any stand up paddle boards for sale yet, but I expect that they will be sold out quickly this year.  I couldn't resist picking up the Little Miracles Knit Blanket & Rattle for the little one.  Does anyone have any reviews of the Lillie's Q Smoky BBQ Sauce?  If you are into the Costco Chicken Pot Pie, you should probably pick one of those up.
Remember that Costco is closed on Easter Sunday, but open back up on the Monday!
Costco has published its flyer for April early, make sure to check it out so you don't buy something this week that is on sale in April.  Click the link to see the April 2021 Costco Flyer: https://cocowest.ca/2021/03/preview-costco-canada-flyer-april-5-may-2-2021/
Have a great week everyone!
Happy Shopping!
Go here for the latest Costco Coronavirus updates: https://www.costco.ca/coronavirus-response.html
If you live in BC, you can see the Covid-19 Safety Plan (British Columbia): https://www.costco.ca/bc-safety-plan.html
Stay safe and remember to wash your hands with soap and water often!