PREVIEW: $110 Rebate on BF Goodrich & Michelin Tires & $100 off Rims
Hi Everyone!
I've been waiting for this sale to go on for a while now.  It is definitely time to replace the tires on my wife's car especially before the cold weather comes.  Book as early as you can because the tire centre gets really busy at this time of year!  The gift card is sent to your email within 14 days of purchase. Don't forget to look at your spam folder. The email will have a gift card number, a PIN number, and a bar code to be scanned at the cash. This gift card cannot be applied when you buy the tires (so nice try).  You can go online to price out your tires here:  https://tires.costco.ca/Home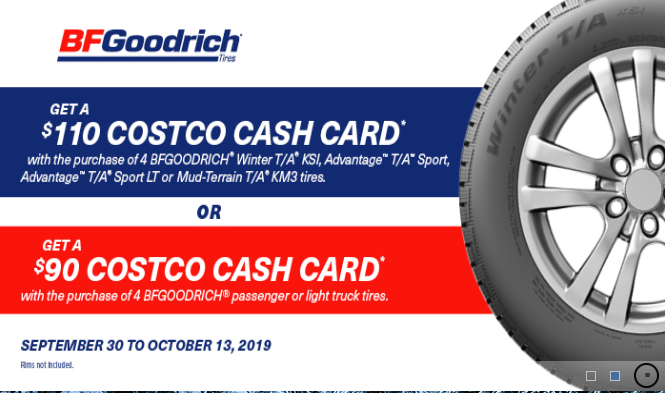 Receive $100 off* with the purchase of 4 Alloy Wheels
If you are changing over to winter tires and have lots of storage at your house why not pick up an extra set of wheels to make the winter changeover cheaper and quicker?  Right now, Receive $100 off* with the purchase of 4 Alloy Wheels – Valid for orders placed 09/30/19 to 10/06/19.  This order can be used in conjuction with the Michelin or BF Goodrich Tire promotion above for some great savings.  You can find the discount here:  https://www.costco.ca/C-Wheels—Steel%2c-Alloy%2c-and-Replica-Wheels.product.100017099.html
Happy Shopping!
DON'T MISS OUT ON THESE POSTS