Location – Canada-Wide
Hi Everyone!
Available in the September Coupon Booklet is also the Executive Coupons for September.  If you are an Executive member, you may be able to take advantage of some extra coupons.
For those of you wondering what the benefits of an executive membership ($120 vs $60):

If you spend $6,000 a year (or $500) a month at Costco, you will receive a 2% reward of $120 which covers your membership!
One of the bonuses of the executive Costco membership is that you get mailed extra coupons!  Granted that if you follow this blog, you will be able to stock up on most of these items anyways, but I'm sure there are a few people who could use an extra sale.  I find that I always spend enough at Costco to justify an executive membership – although I may go to Costco more than most of you.  Last time, due to Covid-19, you did not need the physical coupons, but you had to remind the cashier that you were using a coupon.  They all had copies of the coupons to scan in themselves.

Here are the Costco Executive Coupons that get mailed out to Executive Members Only.  The coupons come in the same package as the Costco Connection Magazine.  If for some reason you are an executive member, but are not receiving the magazine and the coupons, stop by the membership desk.  Your membership may have the wrong address on file or you may need to opt-in for the mailing list.  You can also change them on Costco.ca or on the Costco App under My Account – Preferences.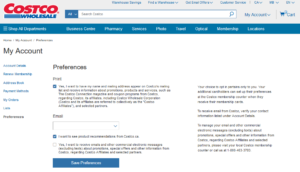 Alternatively, you may be able to pick up a set of executive coupons at the membership desk – sometimes they have extras if you ask nicely.
The executive membership is twice the price of the basic membership ($60 vs. $120).
One last thing to note is that these executive coupon deals are not as good as the regular instant rebates.  This set of coupons, many of these items will go on sale on a pretty regular basis,  if you can wait to stock up, you will save a bit of money.  These executive coupons charge tax on the original amount, whereas regular instant rebates charge tax on the price after the sale price has been deducted.  I wrote a blog post about this with pictures of my receipt to show the difference.  https://cocowest.ca/2018/05/does-costco-canada-charge-tax-on-the-full-price-before-the-instant-savings/
Happy Shopping!