Location: Burnaby (Willingdon), BC Costco
Garnier SkinActive Micellar Rose Water Review and Contest!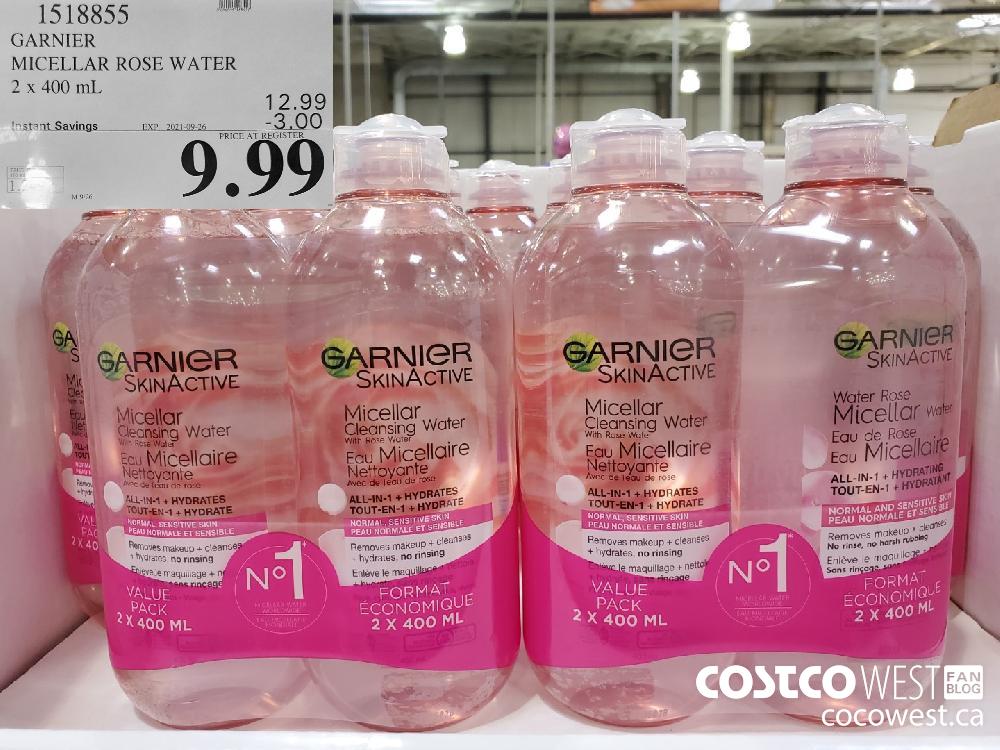 I'd like to give a big shout out to Garnier SkinActive Micellar Rose Water for sponsoring this week's post!  Garnier has been a big supporter of this blog and their products are now being used regularly in our household.
Garnier SkinActive Micellar Rose Water is an all-in-one cleanser that gently and thoroughly cleanses the skin and works amazingly well to remove eye makeup, foundation, lipstick, dirt and oil.
Help support the blog by reading the review! Help Support Garnier SkinActive Micellar Rose Water by picking up a couple bottles in store!  Right now this product is on sale until September 26, 2021 for $3.00 off.
If you aren't able to get into the store, you can also purchase the Garnier SkinActive Micellar Rose Water at Costco.ca.  The price is a little higher to reflect the cost of shipping, but is still a great deal!   https://www.costco.ca/garnier-micellar-rose-water%2c-2-x-400-ml.product.100800189.html
ENTER THE CONTEST!
L'Oréal has provided (3) $50 Costco Cash Cards to give away with this promotion!  We will be holding a contest on Facebook and Instagram.  All you have to do is to comment on this post with to let me know your skin type: dry, normal/combination, oily, or sensitive.  You can go directly to the post here:
Instagram: https://www.instagram.com/p/CTxwXpkJu-g/
Facebook: https://www.facebook.com/1107684512583559/posts/4686592484692726/?d=n
Gook Luck Everyone!
No purchase necessary. Contest ends September 19, 2021 at 11:59 pm (PT). Open to Residents of Canada, 18+. The prizes are:
Conditions apply. 1 entry/person. Correct answer to math skill-testing question required. Contest is not sponsored by Instagram® / Facebook®.  Winner will be announced via Facebook on September 19, 2021, 2020 at 9:00 AM (PT). Winners will be contacted no later than Monday, September 19, 2021 at 9:00 AM (PT) to claim prizes.
Hi Everyone!
I hope you are all doing well!  We're onto the second week of school and the volley of kids activities is starting to ramp up.  We have been enjoying the rain and the cooler weather over here.  It is almost like when kids are busier, they sleep better!
I was happy (and I'm sure others are too) to see the Kirkland Wipes back on sale… Although my (now 6 month old) baby still only poops every 2 weeks now so we still have 2 boxes from the last sale.  We just started solid foods on Sunday so I'm guessing that will change shortly.
I bought quite a few things this week.  I needed to pick up something to clean our carpets so I bought the Bissell 2X Revolution Cleanshot Pet Upright Deep Cleaner.  I also picked up some Rao's Marinaro Sauce, some Pace Salsa, a Pinkglow Pineapple (the last one I had was great) and some Made Good Bars for the kid's snacks.
I know we are close to finishing some more upgrades that will see an increase in the quality of photos and I hope this will be completed by the end of the month.  Once the photos have been addressed, we will be working on adding nutritional information to the food products!  After that, product sale notifications for members!  Again, thanks to everyone who have subscribed for helping to fund improvements to the website!
RETURN OF THE FOUNDERS DISCOUNT!
I have re-opened the "FOUNDERS" discount for the Early Access to the blog.  I am using the proceeds of the memberships to fund upgrades to the blog!
As a bonus, the paid membership gives you access to the Monday posts on Monday afternoon instead of Tuesday Morning at a cost of $19.97 for one year (52 weeks).  You will also have the option of signing up for a new customizable mailing list so you can choose to the updates you want.  If you decide to purchase an Early Access Membership and use the discount code "FOUNDERS" before 2021-09-30, you will get $10 off your annual membership AND have that rate grandfathered forever!
Once you have signed up, to get the early pictures, just use your username and password at the following login: http://cocowest.ca/cocologin  When you are signed in, you will be able to see the pictures as soon as they are published on Monday!
If you don't sign up for Early Access, no problem!  The blog is still free and will be available to everyone on Tuesday Morning at 5:00AM Pacific time.
Happy Shopping Everyone!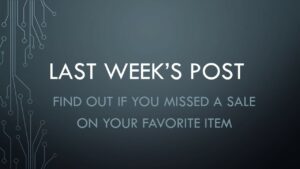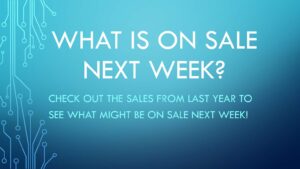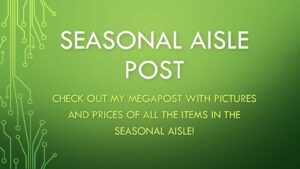 Costco Flyer for Sep 13-19, 2021, for BC, AB, SK, MB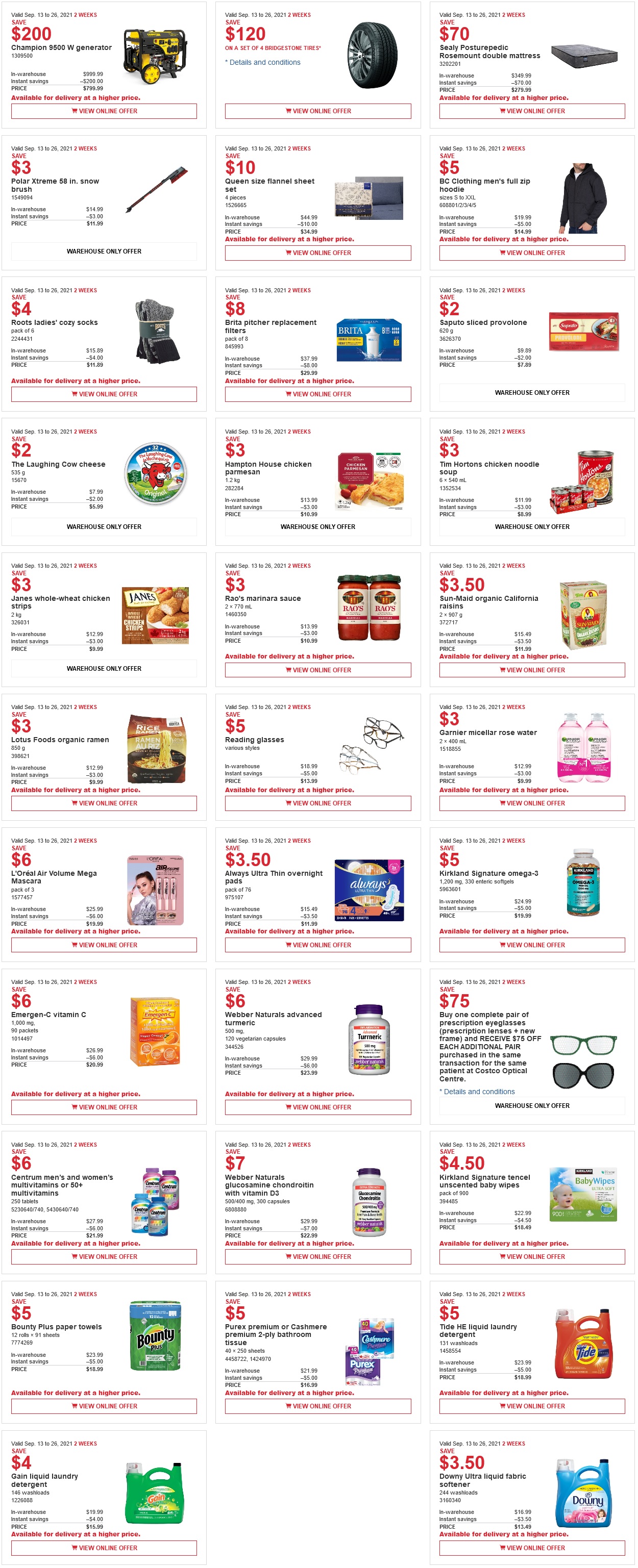 Members must log in to access pictures:  https://cocowest.ca/cocologin/