Hi Everyone!
Yesterday, the websites for Costco.com and Costco.ca went down.  There were so many people who were trying to order off the site in the US that only limited numbers were able to access the site.  I remember when Best Buy started doing their online Boxing Day Sales many years ago and the disappointment being stuck in the checkout or having coveted doorbusters deleted from your shopping cart only to have them sold out when you return.
Costco.com had many of their online sales go on Thursday and they have actually extended their sales an extra day as a result (with limited quantity available).  The IT people over at Costco will probably want to beef up their IT infrastructure since online shopping is a thing nowadays!
(FROM THE COSTCO.COM WEBSITE / NOT COSTCO.CA)
$100 off $1,500 COSTCO.CA SALES
For those of you who waited until today to do their online shopping at Costco.ca, there were indeed some online sales that were added today. They have added a $100 incentive for those of you spending $1,500 or more in one purchase.  I tried stacking this coupon code with my $50 off $250 and it didn't work 🙁  This is probably be helpful for a few of you are looking at picking up a TV, computer or the ultimate in Canadian Purchases, this winch activated snowplow!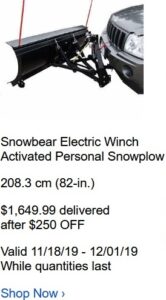 Unfortunately, there is no flyer to guide you through the process of finding the good deals.  It looks to me like the best deals are the ones that are only available for the weekend 2019-11-28 to 2019-12-01.  So look for this sign and you will be in good shape.

Costco.ca is a pretty fun website to look through so I just browsed a little bit to see the weird things they have on sale including these pajamas for the ultimate Costco fan.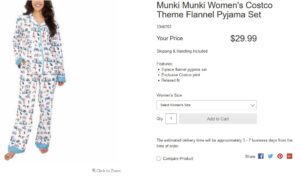 WAREHOUSE PICKUP???

Lastly, Costco tried to sneak this little item in here without any warning and I want to write about it because I always hear about people, who have let their memberships lapse because they just can't fight the crowds or find parking at Costco anymore.  It looks like Costco.ca is offering limited Warehouse Pickup on some of their items (Jewellery, Laptops and Tablets, Handbags, and Electronics.
I have no idea how they plan on working this because there is not much space in the Warehouse.  Where would you even go to pick up your item?  Do you have to line up at the Returns Desk – No thanks.  Anyways, I'm sure a lot of us would like to see the warehouse pickup infrastructure improved.  I was pretty surprised when I saw they added this function and wanted to share.
I'll be visiting the store early this morning to post any new Black Friday Deals that I see ASAP!
Happy Shopping!
In the meantime, don't forget to check out the sales for this week.
DON'T MISS OUT ON THESE POSTS